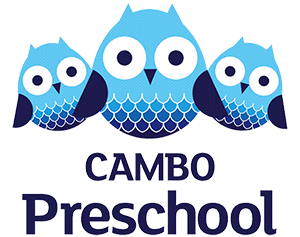 We meet at Cambo First School every weekday, during term time, from 9.00 am to 3.00 pm (our doors open at 8.45 am). We have full use of the school hall most days as well as the wraparound room, our outdoor area and the school outdoor area.  We are also currently in the process of building our own conservatory to have another room to break out into.
If school need the hall at short notice we can use class 1 or class 2 whichever is available.   This is an added benefit of the children becoming familiar with the school environment.
The setting is reached from the car park via a footpath and ramp making it easily accessible to wheelchair users. We have strong links to Cambo First School, but we are classed as PVI (Private/Voluntary/Independent) setting and we are a charity.  We are not a school nursery.
We are open 38 weeks of the years and in general holidays are in line with local schools.
Fee paying children aged 2½, 3 and 4 years old are welcome to start Pre-school at any time during the term, if places are available. Session prices start from £7.50 for a 3 hour session.
All children aged 3 to 4 years old are eligible to 570 hours of free early education or childcare per year the term after their 3rd birthday. This is usually taken as 15 hours a week for 38 weeks of the year.
Children aged 2½, 3 and 4 years old may also be eligible for additional funding. Please visit www.childcarechoices.gov.uk or The Child Care Tax Support Service for further information.
We also accept a range of childcare vouchers; please ask in Pre-school for details.
Children attending Pre-school can stay for lunch provided by Cambo First School at cost of £2.00.
Outdoor Play
Whether outdoors or indoors we provide physical play at every session. We play outdoors each day and in all weathers! We have our own outdoor area, which the children can freely explore. We also have use of the school's playground, climbing frames, small equipment, field and wooded area.
Uniform and Clothing
We have a Pre-school uniform, which is voluntary.  It consists of a red polo shirt and sweatshirt with our owl logo.  If you would like to purchase any of these items, please see a member of the pre-school team.